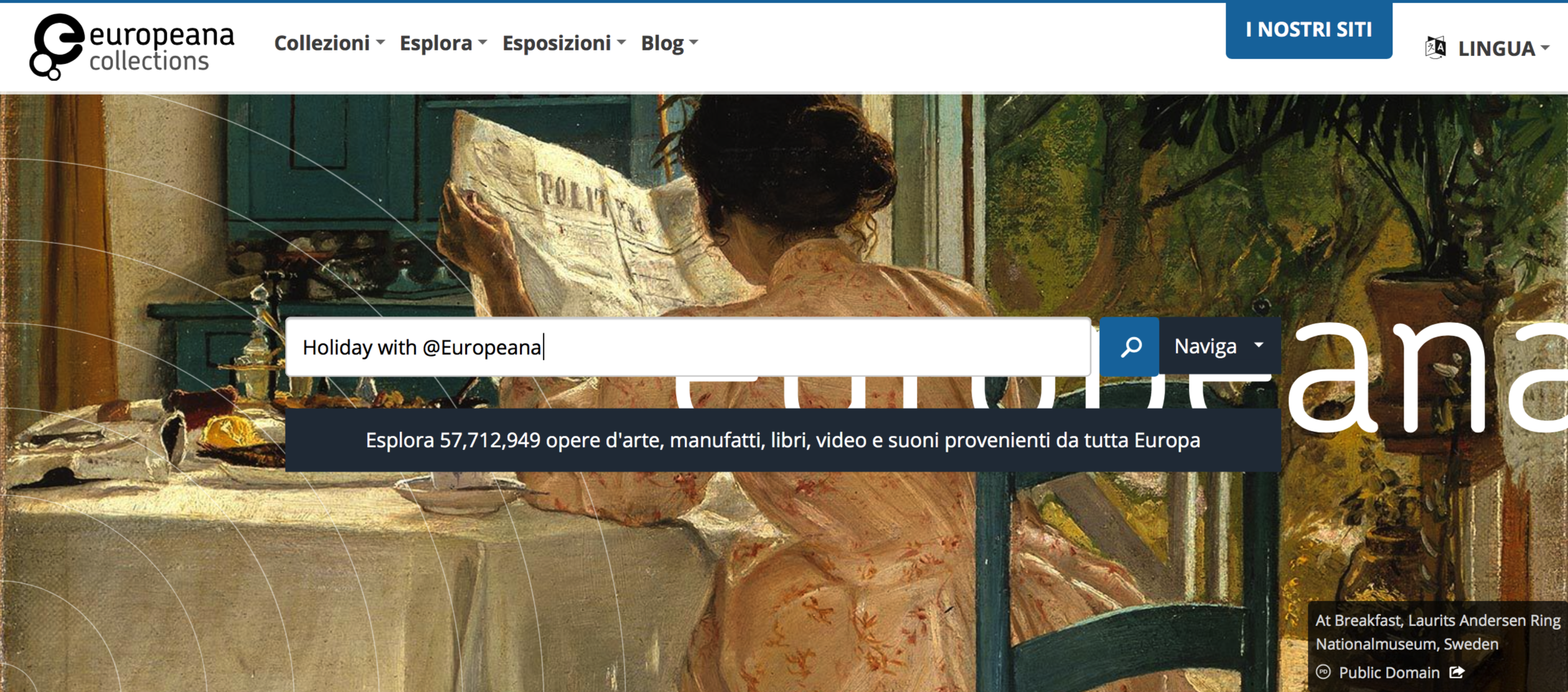 31 Jul

Holiday with Europeana

BlogPost by Peter Soemers

Up to holidays? Or at least to nice long summer days? We invite you to share on social media (Twitter, Facebook, Instagram) historical photographs of your favorite summer destination, your preferred airlines, railway stations, landscapes, cities, sports events – whatever you want! Being on holidays I always have moments questioning myself: "How did it look like over here 100 or 200 years ago? How was life at that time?".
Ponte Goldoni, Venice 1914, Harald Bager (1856-1932), Collection Malmö Museer CC BY. Via Europeana. What would your Summer Picture show us?
A great source for that kind of pictures is Europeana Collections. This portal assembles items from archives, libraries and museums from all over Europe. Europeana was founded 10 years ago by the European Commission and the website now provides access to more than 50 million digitised items – photographs, artworks, books, music and more. Private people contributed as well and uploaded their beloved souvenirs and stories for special collections like 1914-1918 and Migration.
This Summer we want to start an easy 'game' by inviting you to download such items from Europeana and share them on your social media accounts. Post them with "#holidaywith @Europeanaeu" (Twitter) or "#holidaywith @europeana_eu" (Instagram) if you like!
Combinations of old phtographs, maps or artworks and new pictures (yours) or even self-made remixes could build bridges between past and present and enrich the lives of creators and followers! If you add the handles of Europeana to your posts, guys over there (as "Europeana" on Facebook and Pinterest as well) will follow your posts and maybe respond to them.
How do I find what I want in Europeana Collections? Supposing you are mostly using smartphones on holidays, I add over here some screenshots how it works best on them; there is no app available.
1. Open your browser and type www.europeana.eu (yes, a lot of vowels, the first time you can't remember that so easily).
2. If the website isn't speaking your language right from the beginning, tick MENU in the right upper corner and select your language. I'm based in the Netherlands, so the screenshot shows the site speaking Dutch to me.
3. Scroll down in order to see 'tiles' for the newest online exhibition and for the many collections available, e.g. Art, Fashion, Maps, Photography, Sport. Of course you could browse some Collections or Exhibitions before searching something specific you want to download and use or just want to share by linking. But we start diving deep over here, doing some searches. Whenever you want to go back to the beginning, just press "europeana collections" in the left upper corner.
4.a. To make it more comfortable for yourself, tick on tile "Free to use images". Here you will find only images (no text or audio files) AND you don't need to check if the material is copyright-protected! You are allowed to download, remix and share everything you find over here, without any hesitation!
You can select a specific collection afterwards, if you want, by ticking on the little arrow after the word "Filter".
4.b. If you take the other way around (by selecting a specific collection at first) , you will be able – after doing a search – to select "Image" and "Free Re-use" as a Filter.
5. Let's do a search for "Lucca" right now, after ticking tile "Free to use images". Type the word and tick the magnifier symbol. That should bring up (after some seconds):
6. Scroll down to browse the results – there are 271 in total. If you want to get only photographs, tick the arrow after "Filter (2)", scroll down and you get several collections to choose. Only after opening "More" you will be able to select "Photography". This will reduce the results to only photographs:
Also this time you have to scroll down to see the results: 15 left.
In principle it is possible to add more search terms to narrow down the results. But many times this eliminates too many results because the delivering institutions come from so many countries and are speaking so many languages … They not always used the search terms you choose …
Better more scrolling and less narrowing down by adding search terms …
7. Let's take the fist item: just tick on it. It's the "Fassade der Kirche S. Michele, Lucca". The picture comes from "Museum für Kunst und Gewerbe" in Hamburg/Germany, but the creator is "Fratelli Alinari". Scrolling down shows more information. Here you will discover also an area for sharing and downloading, escorted by license information "CAN I USE IT":
From here you can copy/share the link to the image or download it. You can even visit the page where the providing institution offers the image.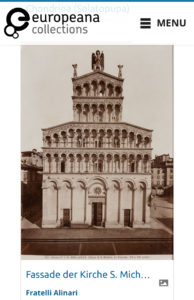 If you download the image and don't share the link in your post, it would be very polite to mention the providing institution. License "CC BY" asks explicitely to do so. But that isn't the case in here.
I just used the image in a tweet: Tweet by @PeterSoemers
And you can follow the conversation with the image of today's Church of San Michele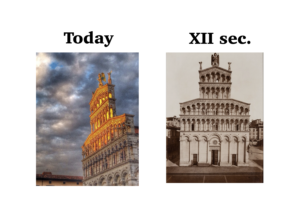 Have fun, share and download, combine with your pictures, remix, enjoy!