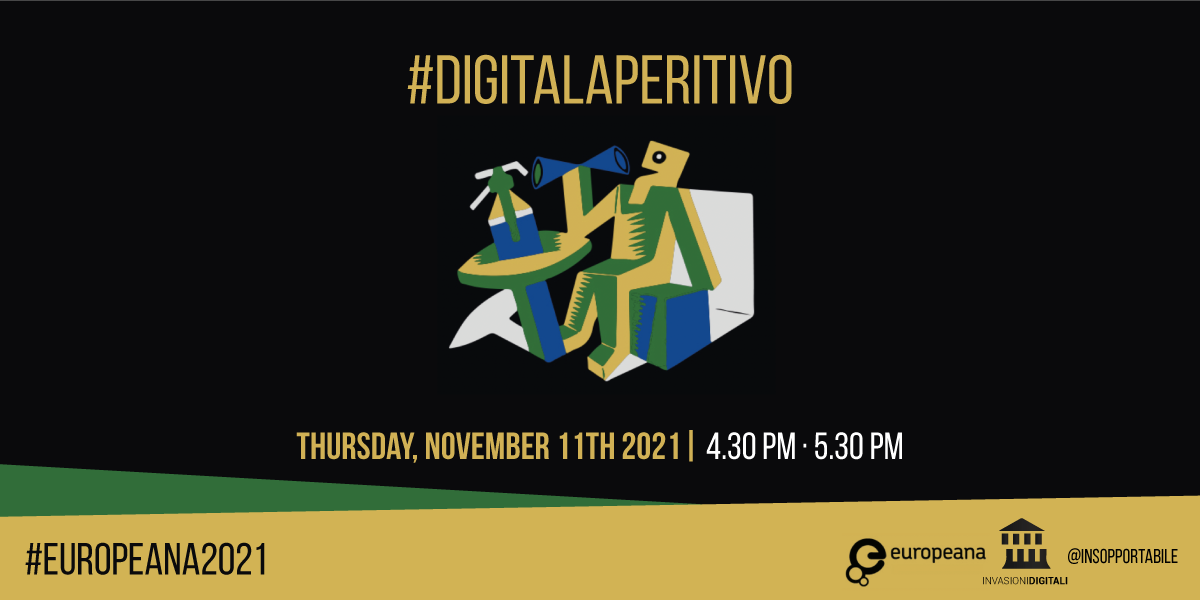 05 Nov

Digital Aperitivo with Europeana!

Digital Aperitivo with Europeana on Social Media

Culture these days has moved to the web, but museums, theatres, libraries, galleries, archives and places of culture would prefer to share their beauty more directly, as do culture lovers around the world. So that we can bring culture directly to you, Europeana Communicators invites everybody to a Digital Aperitivo where we can come together to celebrate culture in all its forms.

November 11th, From 4.30PM to 5.30PM (CET), resonating with Europeana's theme "Recover, Rebuild, Grow" – we will reflect together on the role of culture in this tough period and will ask people to invade the web with culture. In this way we can revitalise our connection to our rich multicultural European Community; to be inspired, creative, while at the same time, have some fun. If you are signed up to Europeana 2021, you can join us for a Zoom call first…at 4.30 PM (CET) to provide instructions on how to participate.

Not signed to Europeana yet? Go HERE and join the event! 

You don't have to be signed to the conference to participate to the Aperitivo but you'd miss an opportunity if you don't! 

We invite conference participants, their respective networks and citizens worldwide to meet online; over social media, and via two dedicated hashtags (#Europeana2021 #DigitalAperitivo) to share the culture they love on Twitter and Instagram – please keep in mind that your post should be public to allow others to share, respond and comment, and if you're sharing art from online collections, make sure you can legally share the content online and credit the source as much as possible!

Need an idea? Try searching for images on Europeana. You can choose between Collections, Type of media, Country, etc and you can also use the "can I use this" filter and select "yes" for openly licensed content and follow our guidelines to appropriately credit the source'.

During the Digital Aperitivo Europeana Communicators will be there to support, inspire, and interact with you.

What we celebrate:
literature – poetry, prose, pieces from books, words and quotes, proverbs, reading. Post your favourite pieces, quotes that you love, videos of you reading a passage, a video of an author reading his piece, etc.
music – every genre of music, songs, videos, jazz, pop, rock, folk, etc. even your own song if you are an artist (or believe you are). Here you can feast on music of all kinds, and if you're a musician why not sing/play/whistle your own song for the occasion? Let us listen to the music of your land; something that comes from far away yet makes us want to take the first train to reach you and listen to you in person.
art – paintings, statues, museums, art galleries, archeological sites and libraries and archives and so on. Let us feel the art in all its forms, a museum that has touched your heart, a framework that tells us its story or maybe yours. If you are a GLAM invite us into your gallery, albeit virtually, and inspire us with your art and your story.
food – recipes, tips, wine pairings and everything that tickles the palate. Organise a virtual tasting at home and…bon appetit! Let us visit your land through its gastronomy and the wines that it produces so that we can join you live to test them 'for ourselves'!
travel – lets travel virtually around your cities, villages, towns, our country. Let us discover that hidden corner in pictures or videos that you really cannot forget.
Join us in our Digital Aperitivo, wherever you are and wherever you may want to be!
Europeana's Communicators Steering Group and other Europeana Network members are looking forward to interact with you, in English and in other languages too:
On Twitter
@cristinaroiu & @rdeacasa – Romanian, German, Russian and French
@EuropeanAd – Dutch, Spanish
@KillDowning – Irish (eeek)
@mariannmarcucci – Italian and French
@PSoemers – Dutch and German, some french
@susanhazan – Hebrew
@VayaPapadopoul – Greek
@MSanderhoff – Danish
@TamyBu – Serbian
@majadrabczyk – Polish
@LoaSteinunn – Icelandic
@peinadormarta – Spanish
@JJKoopmans – Frisian
@lcborges – Portugese
@NLsmartroots – Lithuanian
@OleinikTatyana – Ukrainian
@renies – Indonesian
@dafydd_tudur – Welsh
@daghensten – Norwegian
@Sadike25 – Dagbani
@LanaPajdas – Croatian
On Instagram
@europeanad – @mariannamarcucci – @psoemers -@MSanderhoff – @loakristjansdottir – @lanavonpajdas